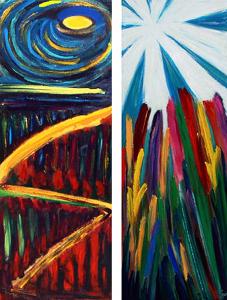 INTERVIEW WITH AN ARTIST
Banning Kent Lary, American 1949-
By
Jason Lee Leighton
6,500 words

9/9/03

After running a gauntlet through several buildings filled with kids and dogs, I follow the yellow limestone path to the studio of Banning Kent Lary. The South Austin three-building compound "affords the ultimate livability," says Banning, fiftyish, a golden bear of a man, cheerful and exuding good will. "I have my prison/sanctuary, Valerie has her design studio/location and the girls have the main house. We all have space to do what we need to do without getting in each other's way." Each building is painted with different colors – lime green, Miami turquoise, electric blue, flamingo, tea rose, pale yellow – great eye candy as you move among plants, paintings, rock areas, Impressionistic stained glass, an aqua pool in a sunken deck. Rose vines climb trellises on the pool house around a large painting of torn paper. I enter Banning's studio through two...